Bruges Easter Saturday Day Trip Via P&J's Chocolate Factory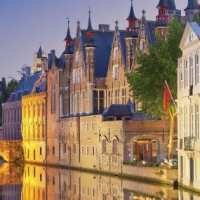 Trip date :

Saturday 20th of April @

Cost :

£37.50

Tickets remaining :

27
Get Tickets
Buy ticket online below
Or call us on 01227 456 331 and complete over the phone
If you set out to design a fairy-tale medieval town, it would be hard to improve on central Bruges (Brugge in Dutch). Picturesque cobbled lanes and dreamy canals link photogenic market squares lined with soaring towers, historic churches and old whitewashed almshouses. And there's plenty of it. The only downside is that everyone knows.
That means that there's a constant crush of tourists in the centre, especially through the summer months. So to really enjoy Bruges stay overnight (day trippers miss the fabulous evening floodlighting) and try to visit midweek (avoiding floods of weekend visitors).
There's a special charm in spring when daffodils carpet the tranquil courtyard of the historic begijnhof retreat, or in winter (except Christmas) when you can have the magnificent, if icy, town almost to yourself.
Bruges Pick up Locations :
Faversham – Shell Garage 6:30am
Whitstable Longreach / Premier Inn  (Canterbury Bound) 6:40am
Blean – Bus Stop Near Londis (Canterbury Bound) 6:50am
Canterbury – Your Music School (Wincheap) 7:00am
Bridge – The White Horse Bus Stop 7:15am
Densole – The Black Horse 7:30am
Comments
Comments