Kinky Boots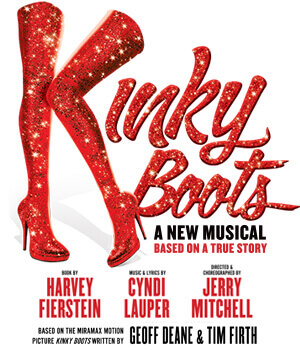 Trip date :

Tuesday 28th of June @ 7:30 pm

Cost :

£67.50

Tickets remaining :

5

Travel via :

Route 1, Route 2
Get Tickets
Buy ticket online below
Or call us on 01227 456 331 and complete over the phone
Fresh from Broadway, the award-winning and big-spirited musical Kinky Boots is set to make its besequined UK debut on London's West End. Based on the 2005 British film starring Chiwetel Ejiofor and inspired by real events, Kinky Boots the musical is full of sensational songs by music legend Cyndi Lauper and boasts a book by four-time Tony Award-winner Harvey Fierstein.
Set in Northampton, Kinky Boots tells the story of Charlie Price, a young man who reluctantly takes over his late father's shoe factory. As Charlie scrambles to stop his family from sinking into bankruptcy, salvation comes from an unlikely source: sensational cabaret star Lola. Lola and Charlie form an unlikely partnership and together try to turn Charlie's shoe factory around.
Bursting at the seams with infectious music, dazzling design and boundless energy, this inspirational story about unlikely friendships and the possibility for change is buzzing with life. Beautifully staged, uplifting and, above all, fun.
Comments
comments
Comments
comments