Matilda The Musical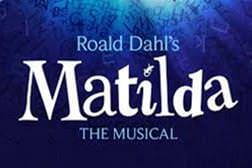 Trip date :

Wednesday 8th of November @ 7:30 pm

Cost :

£61.50

Tickets remaining :

3

Travel via :

Route 1
Get Tickets
Buy ticket online below
Or call us on 01227 456 331 and complete over the phone
Adapted from the ever-popular children's book by Roald Dahl, Matilda the Musical has been a spectacular since it first opened to packed audiences at the Cambridge Theatre, London.
Including original songs from comedian, Tim Minchin, Matilda the Musical at the Cambridge Theatre, London is the latest masterpiece from the Royal Shakespeare Company. Based on the grisly tale by Roald Dahl, Matilda is the story of a young girl, neglected and misunderstood by her family, who discovers she has the power to change her destiny. Matilda at the Cambridge Theatre London is one of the must-see shows for all ages, whether you were inspired reading the original book or watching the award-winning film. Tickets for Matilda at the Cambridge Theatre, London continue to sell fast and it won't tour forever. Packed with hilarious songs, outstanding performances and lots of laughs, make sure you don't miss out on the spell-bounding story of Matilda, live at the Cambridge Theatre, London.
Winner of five Best Musical awards and with five star reviews, in Stratford and at the Cambridge Theatre, London, Matilda is a must-see. Get your Matilda the Musical tickets now.
"The quest for a great new musical is over, London (and before long, presumably, the world) has just that in Matilda" Evening Standard
"Utterly exhilarating. Matilda explodes onto the stage" Independent
"Gleefully nasty. An evening of unadulterated bliss" Guardia
"Hilarious, moving, glorious" Daily Telegrap
"Giddily enjoyable. Roars of approval shake the theatre" Sunday Express
"Killer songs. Heart-tugging & inexpressibly moving" Sunday Time
"Dark, daring and a lot of fun" Financial Times
"The RSC's new musical version of Roald Dahl's Matilda is a triumph: enchanting, bold and ingenious" Evening Standard
"The show only ended an hour ago, and I'm already longing to see it again" Daily Telegraph
Theatre Trips Kent will collect you from you chosen pick up point and take you to London, we Drop within easy reach of the Theatre.
With Free time before the show you will be able to get lunch or a drink and a look around before the show.
Afterward the coach will collect you and return you to your drop off.
The seats we have allocated are Stalls.
Comments
Comments