Thames Sightseeing Cruise & London Sealife Aquarium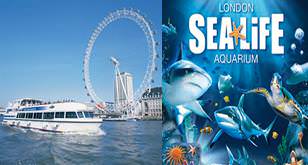 Trip date :

Thursday 1st of September @ 9:30 am

Cost :

£39

Tickets remaining :

Sold out, call us to enquire about cancellations

Travel via :

Route 1, Route 2
Get Tickets
Buy ticket online below
Or call us on 01227 456 331 and complete over the phone
Your river cruise on London's oldest thoroughfare – the Royal Thames – is an opportunity to take a truly different view of London, passing some its best of historical landmarks the Thames offers including:
Greenwich, Canary Wharf, Docklands, Tower Bridge, Tower of London, HMS Belfast, The Globe Theatre, Tate Modern, Millennium Bridge, St Paul's Cathedral, South Bank, Cleopatra's Needle, plus many more.
At the end of the cruise the boat will dock at Westminster Pier where a short walk over the Westminster bridge will lead you to the London Sealife Aquarium.
Explore the many different zones of the Aquatic kingdom which include,
SHARK WALK : Start your visit by walking over a glass window with incredible views into our magnificent Pacific display. Take a long look at some of the most majestic creatures in the ocean as they swim just inches beneath your feet!
ATLANTIC DEPTHS: You'll continue your journey of discovery as you explore the mysterious depths of the Atlantic Ocean! It's cold, it's deep… and full of creatures who
are truly out of this world! Be dazzled by a sparkling silver shoal of sand eels and meet our Common Octopus, a very intelligent relative of the Snail!
TIDAL REACH: Think British waters are boring? Think again! In Tidal Reach you'll spot brightly coloured Gurnard with whiskery faces and pouting lips, delicate Pipefish weaving amongst the seagrass and Jellyfish pulsing through the water like UFOs!
RAY LAGOON: In the shallow Atlantic waters, beneath an old pier, you'll arrive next at lagoon that is rippling with beautiful Rays! These curious
creatures are graceful to watch from above but don't forget to take a look through the window below to see the mouth and
gills on the underside of their body as they pass on by. Our eagle eyed guests may even spot a Ray's egg hidden in the sand.
DIVE DISCOVERY: A breathtaking scene awaits you in our Dive Discovery! Flitting around the replica bones of a great Grey Whale are pretty Purple Tangs, rambunctious Triggerfish, stripy Snapper and hundreds more gorgeous tropical fish. Imposing Southern Stingrays patrol the seabed whilst small Cownose Rays dance above their heads.
There is so much more to do, it is the perfect day out for the whole family!
Comments
comments
Comments
comments