Jersey Boys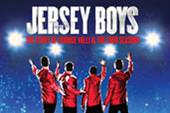 Trip date :

Tuesday 20th of September @ 7:30 pm

Cost :

£49

Tickets remaining :

1

Travel via :

Route 1, Route 2
Get Tickets
Buy ticket online below
Or call us on 01227 456 331 and complete over the phone
Jersey Boys is a musical that comes to the West End straight from New York and is one of the capital's most famous and popular shows. With great performances and memorable songs it's easy to see why!
This is truly a rags to riches story in which four unknown boys from Newark, Jersey rose from obscurity to fame and fortune. They came from quite humble beginnings but they all had a dream and as they struggled to realise that dream, battling against poverty, ignorance and indifference.
This is an award winning show which is based upon famed 1950's/60's rock and roll group, Frankie Valli and The Four Seasons. It stars an array of talented performers in the roles of Valli, Tommy DeVito, Bob Guido and Nick Massi, whilst also including fantastic and memorable hits such as Big Girls Don't Cry, Walk Like A Man, Sherry and many, many more.
The group started life as The Varietones and the Four Lovers and in their early days faced rejection upon countless rejection from record studios everywhere. They tried everything to gain recognition and endured grinding poverty whilst doing so. One of their many failed auditions took place at a bowling alley called The Four Seasons and this appealed to them so much that they took the name!
The group now known as Frankie Valli And The Four Seasons persisted and their drive and determination eventually led to deserved success. Valli's unique falsetto voice which was echoed by the other members of the group catapulted them to success. Their first number one hit, Sherry launched them on the road to international stardom and between 1962 and 1964 they stamped their authority with an unbelievable 16 Top 40 hits in just two and a half years!
The group found itself on a roller coaster ride. In a scenario familiar to many a rock and roll band they embraced the rock and rock lifestyle. Unfortunately, this comes at a price and for the group, this led to their self-destruction.
However, it is not all bad news as the group have reunited and they are back with their evergreen and highly popular tunes for a new generation. Both their existing and new fans will be delighted and entertained by this truly magical show.
Age Restriction: Recommended for ages 12 and over due to strong language. No children under 5 allowed.
Comments
comments
Comments
comments